CleanOut your Inbox today!
If you're overwhelmed by the amount of email you receive, CleanOut is the fastest way to check your email while making sure that you never miss an important message and stay on top of action items.
CleanOut does just one thing: it allows you to check your email very quickly while staying organized and reminding you to follow up.
Take your familiar Outlook experience to the next level. Works with your existing Outlook email, calendar and tasks.
With CleanOut your email stays local on your device unlike other solutions that process your email in some unknown location "in the cloud".
CleanOut is for people who have serious work to do. It's industrial strength and ready to tackle your most complex email.
Turn the arduous task of checking your email into an enjoyable experience knowing that you're in control and will be done quickly!
Try CleanOut today. Its free!
Gallery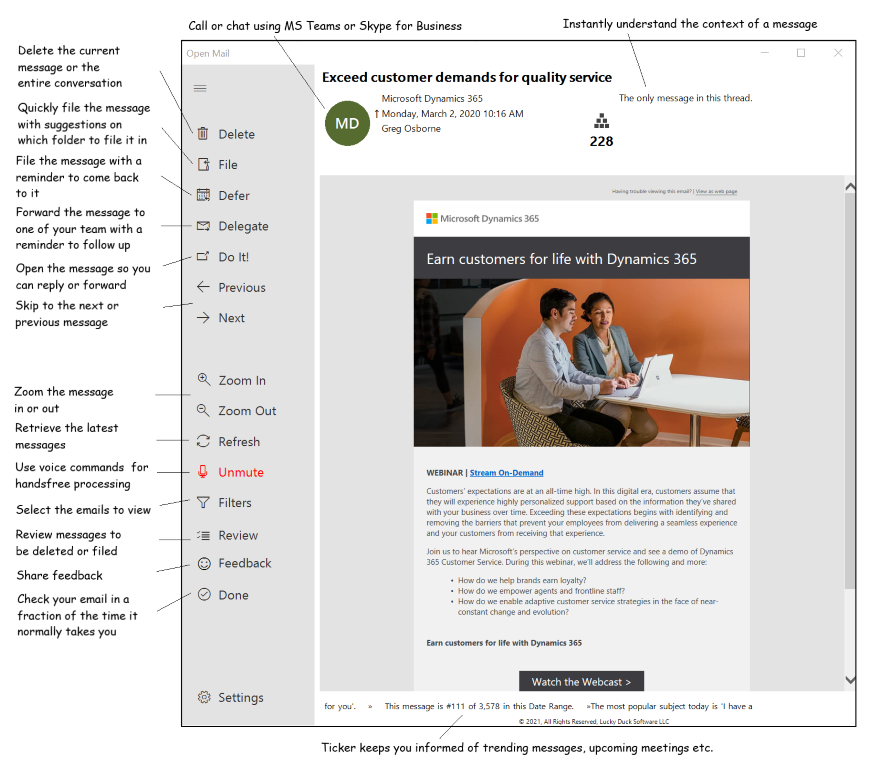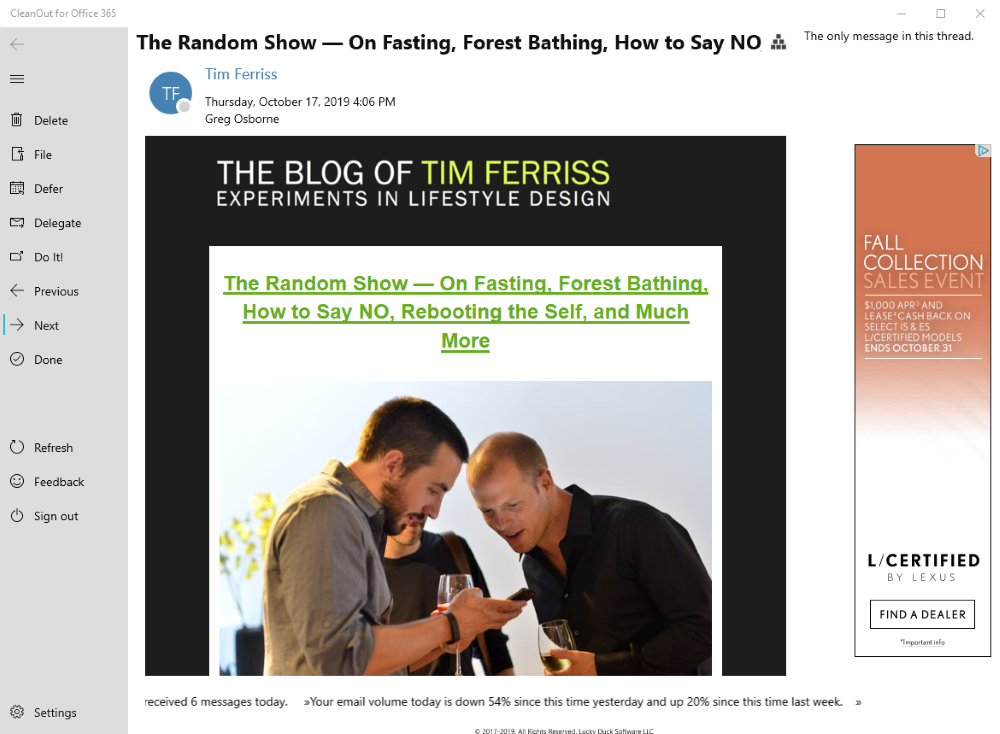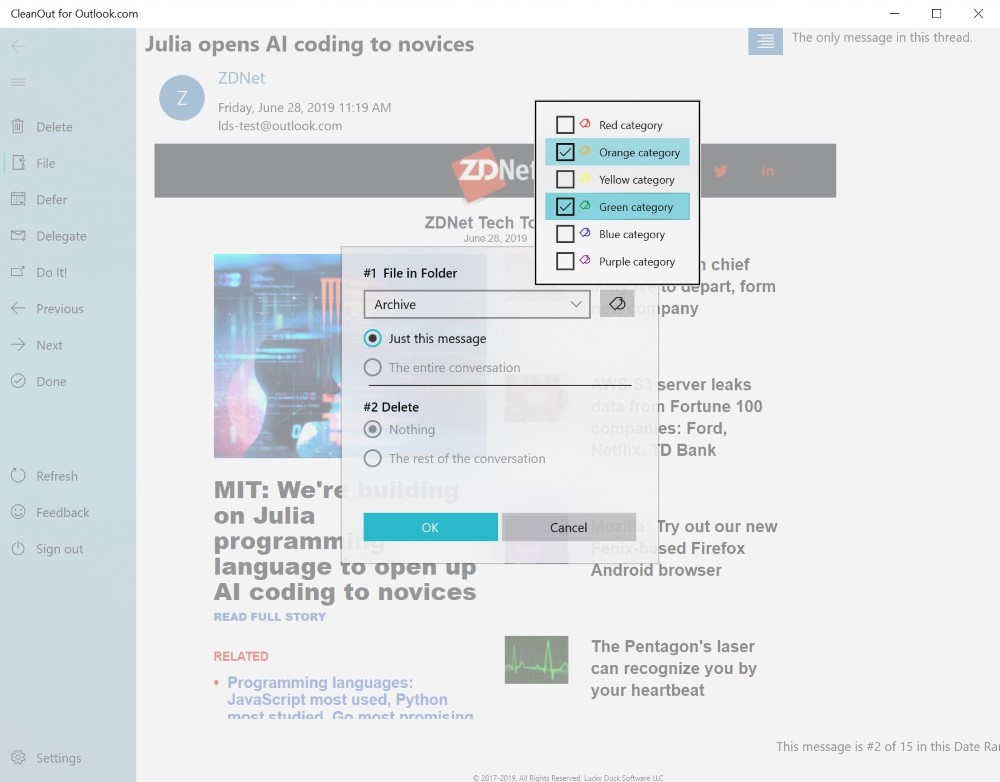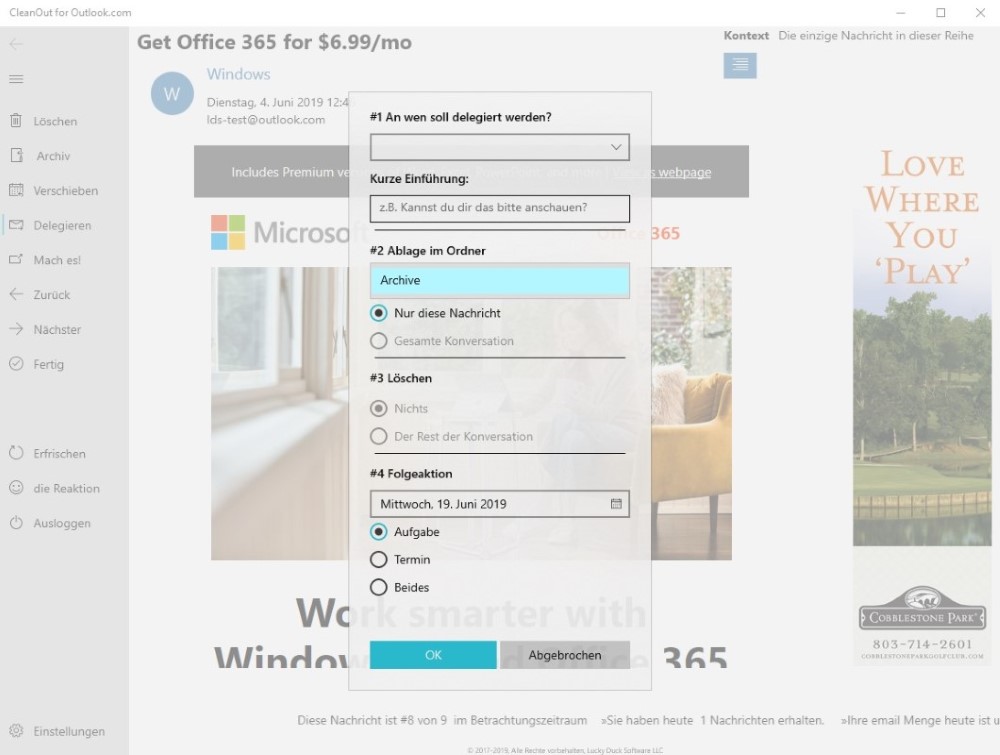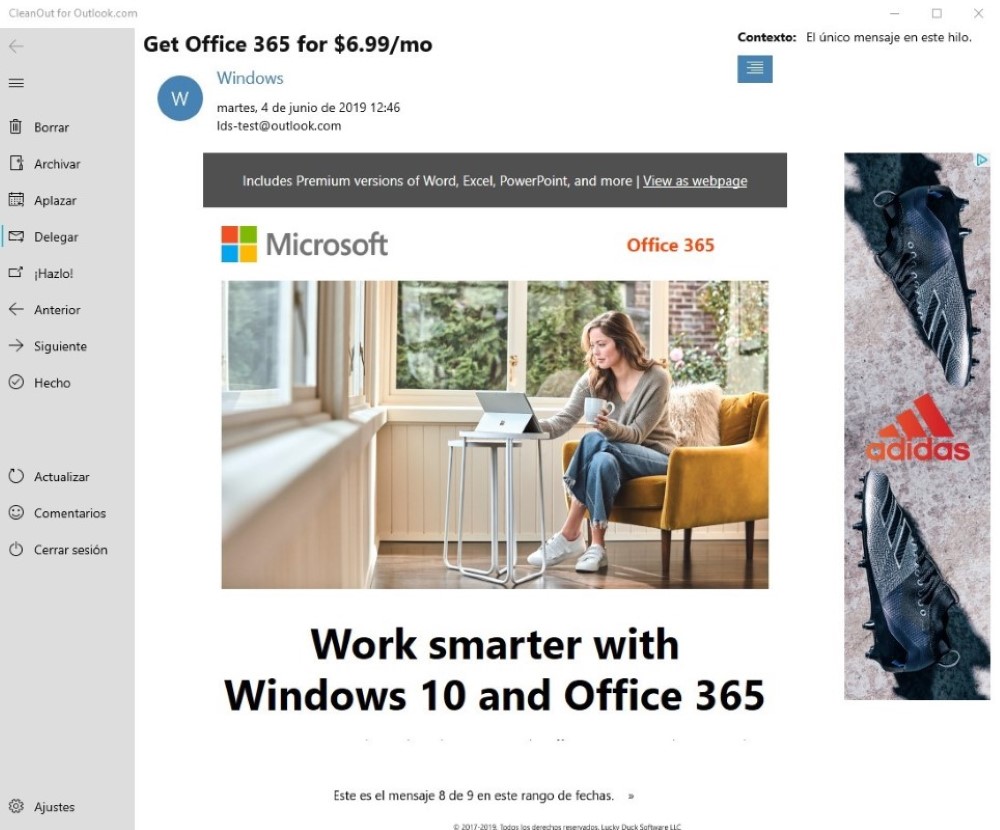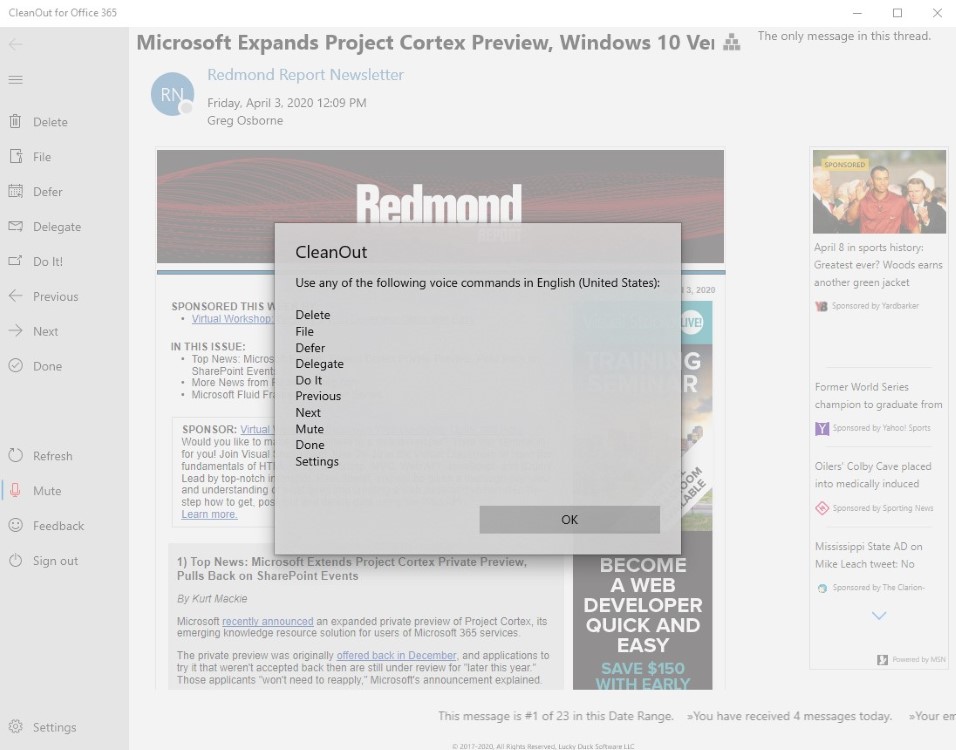 Compare Versions
Feature th >

CleanOut

CleanOut for Xbox

CleanOut for Outlook
See important messages first
Smart email filing
Automated email follow up
Fast inbox CleanOut
Multiple incoming email folders
Piling using Outlook categories
Handsfree voice commands
Multiple email accounts
Multiple Outlook profiles
ChatGPT email summary
Email date range
Past 7-days
Past 7-days
Unlimited
Languages
English, German and Spanish
English, German and Spanish
English, German and Spanish
Email providers
Microsoft 365, Outlook.com, Hotmail, MSN
Microsoft 365, Outlook.com, Hotmail, MSN
Microsoft 365, Exchange, Outlook.com,
Gmail, Google Workspace,
IMAP and POP3
Outlook for Windows versions
N/A
N/A
Outlook 2016 to 2021
Operating System
Windows 10 and 11
Xbox One
Windows 10 and 11
Chat
Teams
Teams
Filing folders
Mailbox folders
Mailbox folders
Mailbox folders, PST files
and In-Place archive
Internet mode
Online
Online
Online and Offline
Price
Free
Free
USD$59.95 per
mailbox per year
Reviews
It's been an invaluable tool to get through an otherwise daunting task.

I've been a customer for four years and my experience has been great. The software has evolved. Every new major release brings something new to the table, that maybe I never thought of.


Right now, I have 267 [emails in my inbox]. I'll probably get it down to 90 with Lucky Duck in about 20 to 25 minutes.

Before that, I would have to break it up and move on other stuff and come back to it. Which I never did.

[It would have taken] At least an hour and a half, and it wouldn't be all at once.
Clean Out has become part of my daily routine. It has helped me keep on top of emails.

It is an organized process that prioritizes received emails. I like the way it speeds up the process of handling emails.

Has freed up some of my time and made my emails better organized.
CleanOut is one of the best email monitoring software

I use CleanOut to help me on monitoring my emails able to prioritize the most important ones
I really needed help staying organized and CleanOut is exactly what I was looking for.

As I began to use it, I was hoping it would have certain features and I was pleasantly surprised to see they were already there. It's like it was made for me.
CleanOut is an amazing addition to my day. With CleanOut it takes no time to get through all my emails and know for sure I haven't missed anything important. It saves me so much time and stress!

Overall I love CleanOut. I can't tell you what a relief it is to see a nice neat inbox rather then the 45,872 unread messages I used to have to try to force myself to get through.


Benefits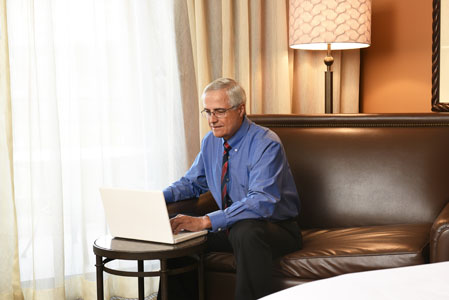 It is a badge of honor for many executives to maintain an open-door policy and to manage their own emails but it is difficult to do both. Incorporating periodic use of CleanOut into your hectic schedule will drastically reduce the amount of time you spend processing email and free your mind during meetings and calls to focus on the topic at hand. Batching of email into dedicated blocks of time with CleanOut, will ensure you deal with the most important topics first and finish quickly.
It's incredible to consider that Outlook, given its popularity in terms of both number of users and minutes per day spent using it, doesn't have a structured workflow like your other enterprise applications. With minimal installation effort, CleanOut is "low hanging fruit" that you can introduce to give a productivity boost to all your Microsoft 365 and Outlook users and put a dent in those constantly growing Exchange mailbox sizes.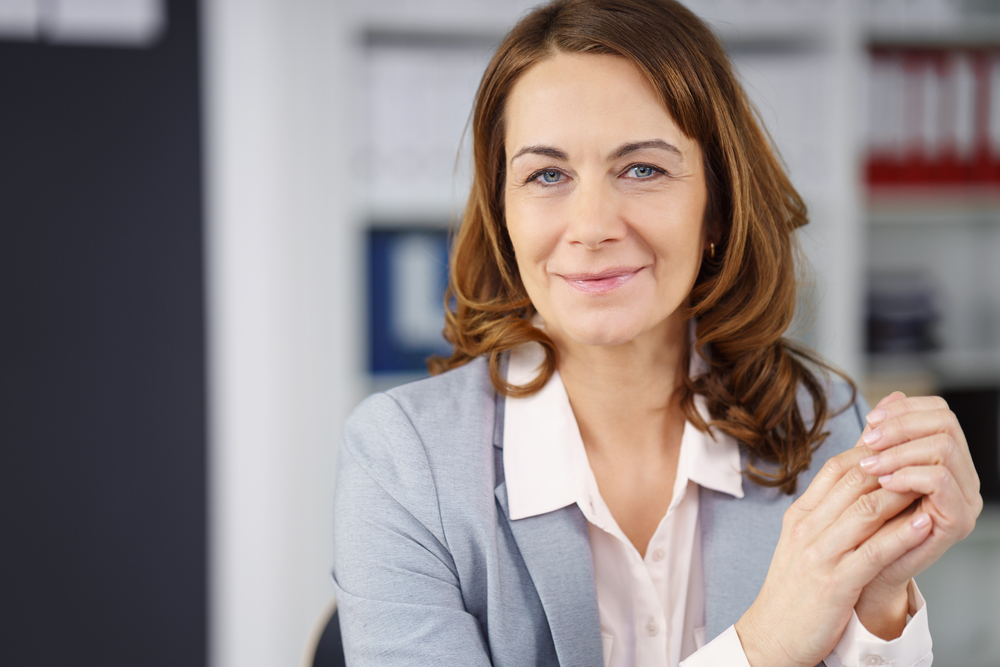 Whether you are in management or an individual contributor, CleanOut will help you take control of your email so that you can:
Reduce the stress associated with keeping up with email and even make it fun
Reduce your dependence on email on your phone or tablet, outside of work
Save an hour per day! Turn that into an additional billable hour, an hour doing something much more strategic, an extra hour spent with the family or even an extra hour of sleep!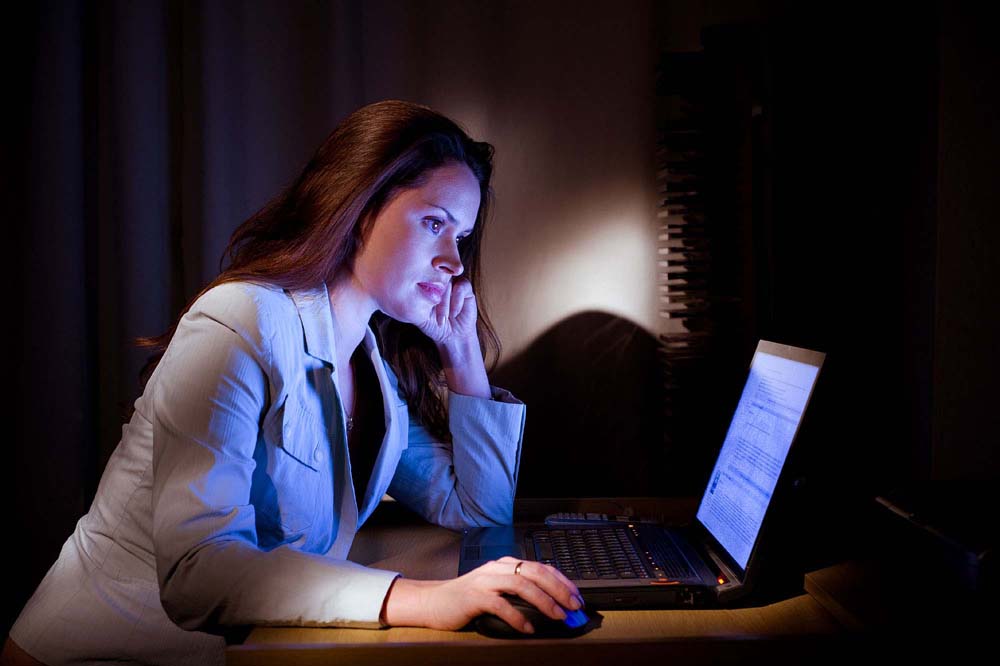 Try CleanOut today. Its free!